*This post may contain affiliate links. As an Amazon Associate we earn from qualifying purchases.
So you've decided to hit the road on four wheels that are driven by your feet and not motors, and your main focus is getting around faster and in style. This begs the question: trick board or longboard? If getting around in speed and style is your goal, then a longboard is for you. Longboards like those offered by Pantheon longboards are skateboards are manufactured and designed to be ridden upon, often for long distances. This contrasts with trick or short boards, which have tails on either side and are made for doing tricks in skate parks more than transportation. Read on to learn about Pantheon longboard models.
What Are Pantheon Longboards?
Pantheon longboards was established and created by owner Jeff and his wife Maribeth, who began their work in New York City in 2009 in response to the growing trend of longboarding both in NYC and across the world. The mission of Pantheon is to equip humans with inspiring outdoor adventure products that make a positive impact on the environment and resonate with their users.
Product Specs
Pantheon longboards makes models for the urban commuter, the long-distance traveler, and the downhill skater. Each model varies in terms of length, width, wheel spacing, appearance, and function, as will be explored below.
Pricing
The pricing on the longboards offered by Pantheon is variable, although the majority of decks cost around $$-$$$. The remaining components to the board–the trucks, wheels, bearings, spacers, and grip tape–can vary widely in terms of cost, although generally they will be in the $$$-$$$ range.
How it Compares
We picked a few similar Pantheon longboards on the market to see how they compare. As we'll see, the variations in the longboards produced by Pantheon are about improving the functionality of the board for particular purposes and riders. Whether you're going to a friend's house a few miles away, or racing against your friends in a professional downhill longboarding race, Pantheon longboards has a model that will suit your needs and preferences.
Pantheon Ember Mini Commuter Longboard
Pantheon 2018 EMBRYO Top Mount Downhill Board
Pantheon Wanderlust
1. Pantheon Trip Double Drop Distance Longboard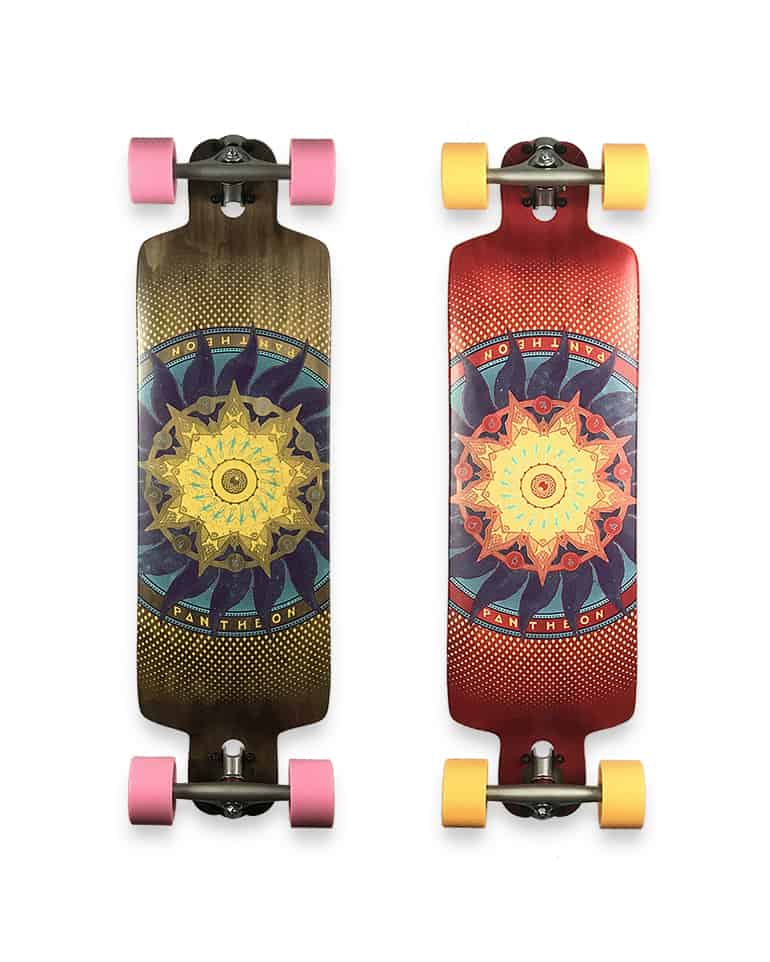 The Pantheon longboards Trip model is manufactured to be a slightly easier to handle and transport longboard, with a shorter length than many longboards. The Trip comes in at 32.3 inches, with a 1 inch dropped platform and drop-through mounting. The design of the Trip was undertaken with two primary ideas in mind: utility and convenience. The shorter board and lower drop makes it easy to handle for longer commuter rides, while the convenience of the size of the board makes it easier to store and transport to your favorite setting.
Price
The cost of the Pantheon longboards Trip model is around $$$ for the deck alone, or around $$$ for a complete setup including the deck, trucks, wheels, bearings, and grip tape.
Ease of Use
Whether you're traveling long distances or short, the board's higher maneuverability and small size make it easier to use in crowded areas and easier to store in tight spaces.
5 of 5 stars
Durability
The board is highly durable and was designed to be just as useful for long-distance commuting as it is for shorter urban commutes. The 7-ply maple deck adds further strength and durability to the design.
5 of 5 stars
Design Quality
The design quality on the Trip is particularly strong. The board is constructed of 7-ply maple wood throughout its 32.3 inches of length, with the deck and wheels being 9 inches wide. The 1 inch drop makes the deck closer to the ground and easier to handle, although it is not so low that the wheel size must be changed.
5 of 5 stars
Customization
There are a few designs in terms of the artwork on the deck, although there are not a great many to choose from. It is through the customization of the grip tape, wheels, trucks, and even bearings that you can make your personality shine through on the Trip.
3 of 5 stars
Pros
Shorter and more manageable
Added drop improves handling
7-ply maple deck
Cons
Shorter than most longboards
2. Pantheon Ember Mini Commuter Longboard
The Ember Mini Commuter longboard offered by Pantheon longboards is advanced by Pantheon as the most superior option on the market when it comes to commuter longboards. Its shorter length is meant to improve upon its handling on the road, as well as its handling in terms of fitting into your car or sitting beside your desk when you've arrived to your destination. The Ember Mini Commuter is one of Pantheon's moderate length longboards that provides added versatility and lower weight, making it a more convenient option for short distance traveling.
Price
The price on the Ember Mini Commuter by Pantheon longboards is moderately priced, with the deck running around $$-$$$. Making the deck into a complete setup with wheels, trucks, bearings, and grip tape, adds an additional $$-$$$ onto the price.
Ease of Use
The shorter length of the Mini Commuter makes it easier to traverse more crowded or constricted areas in contrast to traditional longboards. Further, the slightly narrower width of 8.5 inches also adds maneuverability to the board.
5 of 5 stars
Durability
The Pantheon mini has been manufacture well and is able to withstand the shortest of commutes as well as the long distance trips.
5 of 5 stars
Design Quality
While the Ember Mini may be one of the shorter longboards on the market, it is highly versatile. The deck can sport wheels up to 85mm, with larger wheels gliding over cracks and rocks with markedly greater ease. With a 25-inch wheel-base with a dropped platform that places the skater closer to the ground, stability is improved while pushing is made more energy efficient.
5 of 5 stars
Customization
Customizing the board with unique wheels and grip-tape can be done as easily with this board as with any other skateboard. What makes the customization on this board truly unique is the ability to add up to 85mm wheels, as most brands' models have a maximum of 55m.
5 of 5 stars
Pros
Extra stability through 25 inch wheel base
Holds wheels 45mm-85mm
Smooth riding
Cons
Not many deck options to choose from
3. Pantheon 2018 EMBRYO Top Mount Downhill Board
The Pantheon longboards Embryo model is a top-mount downhill board that is manufactured to function optimally at extreme downhills speeds. Unlike the other mini longboard options explored in this article, the Pantheon Embryo is a board suited to professional downhill skaters and is in fact called a "downhill surf board" by the manufacturer.
The Embryo has been a staple in the Pantheon lineup since the company began, and was the first model ever made by the manufacturer. Since that time the board has been continually upgraded and improved upon. It continues to be one of the best downhill board options available.
Price
The Pantheon longboards Embryo model is the highest priced model for an assembled board. The deck alone runs $$-$$$, with the additional accessories costing as much as the skater would like to spend, ranging from $$$ into the many hundreds of dollars. The price on the final board of this model can vary widely given the many choices available and the professional-grade construction of the board. Many users trick out their boards with professional-grade parts that are markedly more costly.
Ease of Use
While the board is perfectly balanced and crafted with a highly efficient wheel-base, the board cannot be purchased complete. Thus, the use of the board depends upon the purchase of the requisite parts and the assembly of the board. While this can be entirely natural for the professional downhill skater, for the more casual skater having to select and then assemble the components of the board makes it more difficult to enjoy and use.
4 of 5 stars
Durability
The Embryo is the flagship board of Pantheon longboards and is used by amateurs and professionals alike. The design is suited to aggressive downhill competitive skating and is available in 8-ply maple, 8-ply maple with carbon fiber top and bottom, or solid maple. Given that the norm is 6-7-ply, the board is already more durable, with the solid maple version noted as coming with a very slight warp, but all the strength and versatility of a solid wood deck.
The concave is slightly modified on this board to feature a comfy bowl in front and then a clean sweep of concave from front to back, decreasing torsional flex.
5 of 5 stars
Design Quality
The Pantheon Embryo has been modified, tweaked, and upgraded each year since its inception. The 2017 model was a particular favorite amongst fans and Pantheon's own company alike, and so the manufacturer slightly improved upon the design from 2017, although, due to its success, tweaks have been deliberately minor.
5 of 5 stars
Customization
The shape of the deck is highly unique given its surf board influences, granting it a custom look and feel already. From there, the skater is left with the traditional options to upgrade their board, including grip tape, wheels, trucks, bearings, and decals.
3 of 5 stars
Pros
Surf board style
Unique concave deck
Extreme maneuverability
Cons
Can get costly
Top-mounted deck can be odd to some
4. Pantheon Wanderlust
The Wanderlust was designed for long distance rides that include both flatlands and hills, and was created by Pantheon longboards following a trip to Colorado. During the trip, the manufacturers realized the need for a heavier board capable of handling everything the hills and flats of Colorado had to offer.
Price
The price on the Pantheon longboards Wanderlust model is about $$-$$$ for the deck alone, with complete boards varying in cost according to user specifications.
Ease of Use
The Wanderlust is a board that can be shifted to provide for the preferences of the skater. The wheelbase can allow for bigger wheels and loose trucks, or it can be tightened up so the wheels and trucks are as close to the platform as possible. This allows users to achieve the greater grip that is more like a top-mounted longboard.
5 of 5 stars
Durability
The Wanderlust is specifically manufactured for heavier riders and features a stronger deck with less flex, meaning it will be more durable for riders who are aggressive in their technique.
5 of 5 stars
Design Quality
The bottom mounting of this particular board makes it a versatile option in the Pantheon longboards line, and it has many versions to choose from: all the better suit the individual skater's personal style.
5 of 5 stars
Customization
This particular offering by Pantheon longboards has the most significant customization options available. As with the other boards, there are not many options in terms of available artwork, bu tthis model is made in short runs with single- and double-tails, which add to the handling abilities of the board and make it more friendly for urban riding, and even for skaters who want to do ollies or tricks on their longboards.
5 of 5 stars
Pros
Extra-heavy deck
Tail options for added maneuverability
Cons
Heavier weight
On its last production run
Comparison Table
| Product | Image | Rating | Where To Buy |
| --- | --- | --- | --- |
| 1. Pantheon Trip Double Drop Distance Longboard | | | |
| 2. Pantheon Ember Mini Commuter Longboard | | | |
| 3. Pantheon 2018 EMBRYO Top Mount Downhill Board | | | |
| 4. Pantheon Wanderlust | | | |
Conclusion
Now that you've decided to longboard and read this article, your decision on whuch model to purchase should be much simpler to make. We've learned that many longboards have no tails and so are made almost solely for riding and commuting, and not for doing tricks; although there are some options that allow for tricks on the board. Pantheon longboards offers a variety of longboards, each of which is suited for a particular style of rider with unique demands in terms of where they are riding and how they want the board to handle while doing it.
​Final Verdict: 5 Stars
Pantheon longboards are well-manufactured and designed, with the various models providing you with many choices based on your longboards preferences and experience. If you're on the market for a new longboard or want to get to know yours better, check back to Longboard Planet for ongoing articles and updates about the wide world of longboarding.