*This post may contain affiliate links. As an Amazon Associate we earn from qualifying purchases.
Ideal for cruising and carving through the streets, Globe longboards stand out from the competitors with their sleek design and quality make. An Australian-based longboard brand, Globe longboards have quickly taken the market by storm. With a great mixture of stability and speed, these longboards are perfect for riders of all skill levels and types.
Since the 1980s, Globe has been challenging the notion that a high-quality board cannot be affordable. Founded by three brothers in Australia, they began developing high-quality boards at affordable prices, sticking to the concept that great equipment can be available to anyone. Selling skateboards, longboards, clothing, and other accessories in over 100 countries, Globe products are sold worldwide. With a wide variety of board styles and price ranges, Globe longboards have a spectrum of products suitable for all ages, experience levels, and price ranges.
COMPARISON TABLE
[amazon box="B00INTL482,B00L4DK7IM,B009PM0L9Y,B06XVZZLZ4,B078XKQFG7,B01N3ZU0O8,B0056IXSEQ" template="table"]
EVOLUTION OF THE LONGBOARD
Similar to a skateboard, a longboard tends to be faster due to the wheel type, quality hardware, construction materials, and its longer frame. Where a skateboard curves up on each side, longboards remain long and narrow throughout the entire deck. Designed to model the original shape of a surfboard — with the addition of flexible, soft wheels — the initial intention was to recreate the feeling of riding the waves while cruising the streets.
Although longboards are much shorter than surfboards, the design remains nearly identical, with some variations that have been added on over time. Offering greater stability with a longer and wider deck, longboards have great versatility, taking on different sizes, shapes, and terrains.
Many different brands have modified the shape and size of the longboard, transforming it into a unique design over time. Adding in a drop deck element, Globe longboards are becoming easier for people to ride and more available than ever.
High Quality for an Affordable Price
Globe offers a broad variety of longboards in design, style, and price. Ranging in price from $90 to $170, what all these boards have in common is a beautiful design and high-quality materials that give you a smooth ride.
From Bamboo to fiberglass and plastic, Globe longboards differ from the classic cruiser with a simplified design to the kick tail for easier handling and trick performance. Whether you want to cruise for leisurely rides, freeride for tricks, or downhill skate at high speeds, Globe longboards have a variety to match, with each board capable of carving, dancing, and travel.
For whatever style you choose to ride, all the components of the board can keep up with high-quality deck, wheels, bearings, and trucks. When all these pieces are in place, it sets the path for an amazing riding experience.
Customize Your Globe Longboards
With a large selection of longboards, Globe offers a variety of sizes, cuts, designs, and riding types. Globe longboard decks can reach up to 44 inches, allowing you to travel faster, longer, and have more control over your overall balance. Globe boards can be completely customizable, giving skaters the ability to purchase individual parts and completes, letting you design your own riding experience.
Unlike many other brands, Globe offers their longboard equipment in a wide range of prices, catering to all different levels of affordability, experience, and needs. Many of the designs include a drop deck feature, placing the board lower to the ground and in turn making it easier to ride. With agile trucks, grippy wheels, and a great concave deck, experts ranked Globe Longboards one of the best boards for beginners.
[amazon link="B00INTL482″ title="Bantam Faded ST Cruiser" /]
[amazon box="B00INTL482″]
With a fully modern construction and quality components, the Globe Bantam longboard is the perfect commuter board. It's a good board for beginners but still suitable for experienced riders. These boards are perfect for cruising and a bit of carving. Customizable to meet your style, all components are designed to be longer-lasting than anything else on the market.
Specifications
23 x 6 inch plastic cruiser with no concave and gradual kick tail
5 inch slant trucks
59mm 78A wheels
S-trace grip and a swallow tail for a lighter and smaller board
Weighing in at 454 grams (right at about one pound)
This product for Globe longboards has a customer rating of 3.8 out of 5 stars. It has a price range of $70 to $140. Customers love that the board is small and portable enough to bring everywhere. The grip is nice, and the deck is flexible enough to make the board ride well. However, they do not like that it dents easily and the deck chips. The trucks come fairly tight and when you loosen them the board rattles.
[amazon link="B00INTL482″ title="Globe Geminon Complete Longboard" /]
[amazon box="B00INTL482″]
The Globe Geminon is a drop down longboard that has a great mixture of stability and speed. Globe emphasizes their beautiful designs, so riders always look good while cruising on this. The drop-through mount reverse kingpin trucks keep you stable at high speeds. They also allow you to carve really well as the drop-through lowers the center of gravity for the board.
Specifications
5 x 10 inch 8-ply maple
180mm slant inverted trucks
Top-mounted drop-through trucks and a fully dipped, striped deck
69mm 83A wheels
Slight side-to-side concave
Customers rate this longboard 4.1 out of 5 stars. The boards cost between $150 and $200. Customers say the board is good for cruising and rides smooth and fast. It has wide trucks, giving you better stability and making the board great for carving.
Unfortunately, they say it has no grip tape, making it hard to slide. If the trucks get loose, it will speed wobble. Without flex and a kicktail, this is not the best style for tricks or freestyle.
Globe Longboards Pros and Cons
Globe produces so many different types of longboards that they have no specialty in just one. Whether you're a beginner looking for your first board or an expert looking to pick up a new style, you can find a match in their long list of inventory. However, some consumers find so many boards to be overwhelming or are turned off by their lack of specialty in one specific type of board. But there is no doubt that they offer some of the most affordable boards built with high-quality components.
Pros
Great for relaxed cruising and carving
High-quality performance
Budget-friendly
Reliable models
Cons
Some models are expensive
Don't specialize in one particular type of board
Inventory can be intimidating
Considering the Competitors
Longboards come in a variety of looks, designs, and styles that provide different techniques and experiences for each rider. When buying a new longboard, it is important to consider the brand name and their reputation as a sports equipment provider. Each brand also offers a different longboarding experience to their skaters, so it is important to read into each product to see if it is the type of board you are looking for.
[amazon link="B00INTL482″ title="Sector 9 Fractal Complete Skateboard" /]
[amazon box="B00INTL482″]
This company is best known for sponsoring top longboarders and Maryhill, a popular longboard race. Sector 9's best selling boards have an excellent balance between downhill and carving abilities, but you have to be willing to spend top dollar for their boards.
Sector 9 products are highly rated. For instance, the Sector 9 Swamis has a rating of 5.0 out of 5 stars on Amazon. The Sector 9 A.E.V. also has 5.0 out of 5 stars. Customers praise the company for the designs of their boards, great quality, and smooth rides. Like Globe longboards, Sector 9 boards come in a range of prices from $100 to $300.
5 of 5 stars
[amazon link="B00INTL482″ title="Landyachtz Dinghy 28″" /]
[amazon box="B00INTL482″]
Founded on the north shore of Vancouver, the founders had to experiment with steep hill skating. Landyachtz was the first brand to feature lowered boards with trucks above the foot platform, leading to the popular drop down longboard. With an intimidating selection, some of the complete sets can get expensive.
Landyachtz produces high-quality longboards in a range of prices from $100 to $400. Models such as the Landyachtz Switch 35 Eagle and the Landyachtz Wolf Shark have been ranked with 5.0 out of 5 stars by customers on Amazon. Although many customers love the design of the board, the deep drop can take time to get used to.
5 of 5 stars
[amazon link="B00INTL482″ title="Loaded Boards Tan Tien Bamboo Longboard" /]
[amazon box="B00INTL482″]
Premiering with the Loaded Vanguard, this board continues to be a top seller to this day. Designing their boards with bamboo decks and great carving ability, Loaded Boards quickly stood out amongst the competition. They are best known for using environmentally friendly materials. Although high-performing for cruising and dancing, they may not be suitable for downhill or freeriding skaters.
Complete Loaded boards come with a high price tag of $300 to $500. Customers rank boards such as the Loaded Icarus and the Loaded Tarab with 5.0 of out 5 stars on Amazon for a beautiful design and a smooth, fast ride.
5 of 5 stars
[amazon link="B00INTL482″ title="Arbor Axis Artist Collection 2017″ /]
[amazon box="B00INTL482″]
Quality boards with an affordable price tag, Arbor Axis longboards promote sustainability with every board sold. Arbor Axis are designed after the way snowboards glide across the snow. They have a flexible deck that is perfect for cruising, tricks, and speed downhill skating.
With a 4.0 out of 5 stars rating, customers say the boards like the Arbor Axis Bamboo longboard are good for cruising. They have beautiful wooden decks but be careful because you can scratch them easily. Arbor Axis Longboards come in a range of prices from $100 to $300.
4 of 5 stars
[amazon link="B0056IXSEQ"]
[amazon box="B0056IXSEQ"]
Atom Longboards launched to provide affordable longboards for beginners. They have a large variety of all-around boards with different designs to match with any age easily. While an excellent board for beginner riders, product selection for more experienced riders may be left lacking. The Atom Drop Through and the Atom Drop Deck have a customer rating of 4.5 out of 5 stars on Amazon with customers praising them for durability, stability, and quality at a low price tag.
With most of their boards ranging in price from $80 to $200, some of the high-quality carbon boards sell for up to $700.
What sets Globe longboards apart from all their competitors is that you never have to sacrifice quality for the price. Specializing in producing a wide variety of board types from cruisers and freeriding to downhill and dancing, Globe knows that one size doesn't fit all. Cornering the market where quality meets affordability, a Globe board will always have the best materials and components while still staying at a reasonable price.
4.5 of 5 stars
The Best in Longboards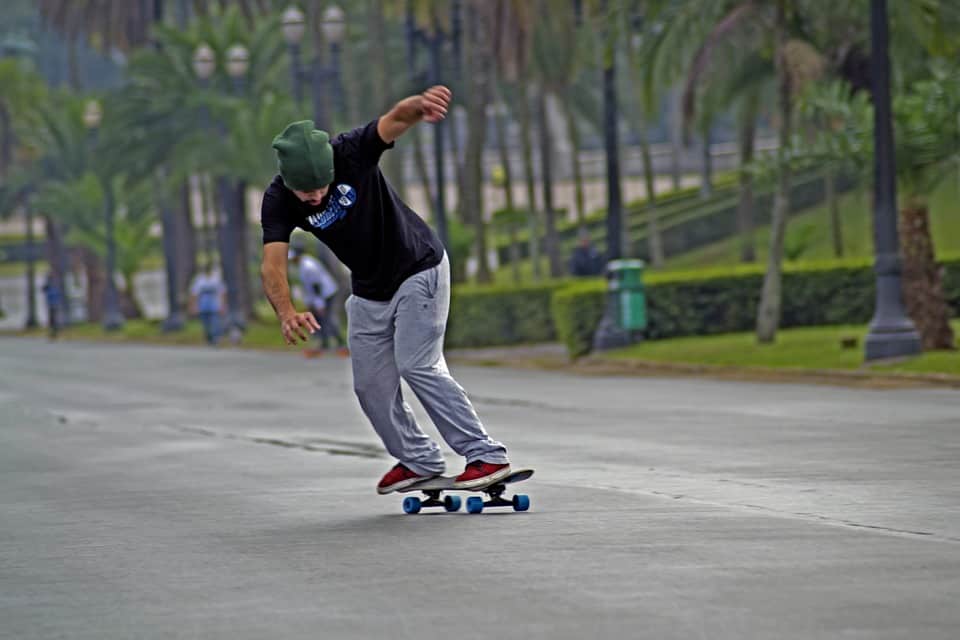 No matter your budget or your expertise as a skater, Globe will have a board to match your preferences. But with such a variety of products, they don't specialize in one specific type of longboard. Yet with over 30 years in the business, they have an expertise in designing boards that few other brands can match. With such a wide assortment of options to choose from, the inventory can be overwhelming. But once you narrow down the type of board you want, whether for cruising, tricks, downhill or more, you can check out the product specs for each board and find the one that matches your preferences completely.
With all the different styles of longboards, you have to look at your personal needs when choosing the right board. For a great board that can take you cruising the streets or carving it out freestyle, these longboards are just for you. Globe longboards provide the best in quality for the price and a great riding experience. Not only do you look great while riding one of these boards, but they are built to last with durable decks, smooth bushings, and quality trucks.