*This post may contain affiliate links. As an Amazon Associate we earn from qualifying purchases.
Rayne Longboards, created by a Canadian company that has specialized in longboards since 2004, is one of the most well-known longboard manufacturers. That's thanks mostly to their unique construction techniques and sheer variety of products from which to choose. But how do they stack up against their competitors?
If you love cruising on a longboard, and who doesn't, it's important that you get the best board for your buck. Is Rayne a company you need to consider if you've been searching for a new longboard?
FAQs
Image by winterseitler from Pixabay
Let's take a look at a few questions you might have about Rayne Longboards.
What do Rayne Longboards have to offer?
Rayne Longboards features state-of-the-art construction using bamboo and fiberglass. This ensures their boards are exceedingly tough and durable, while also being very light. Their wheels are also slightly larger than average. Their sizes range from 65mm to 75mm, with an average durometer of 80a.Rayne also has a very wide range of products that are suited to many different purposes. Whether you want to ride downhill or show off some new trick, you can find the longboard for you. The artwork you'll find is also pretty impressive. Their graphics are tattooed into the board itself, so you don't have to worry about them getting scratched over time.In addition to this, Rayne also sells a number of longboarding accessories. These include gloves, safety equipment, risers, and apparel.
Are Rayne longboards appropriate for any style of longboarding?
The answer to this question is yes and no. One of Rayne's greatest strengths is the sheer variety of longboards they have available. These can differ wildly in terms of size, shape, and style. This makes it very easy to find something that matches your personal preferences. Whether you enjoy freeriding, cruising, or racing downhill, Rayne has the longboard for you.However, they don't have a particular board that excels at everything. The closest thing they have to a board like this is the Rayne Darkside, which you can more about below. In general, most of Rayne's boards tend to specialize in one style of longboarding while being somewhat average in other areas. This isn't necessarily a bad thing if you specialize in one style as well, but it's something to keep in mind.
Are their products environmentally friendly?
Rayne has taken steps to minimize their impact on the environment. Most of their products are either recycled or upcycled materials. Of course, it's always encouraging to see a big company show responsibility in this way.While Rayne certainly deserves credit for their efforts, they still don't go quite as far as some of their competitors when it comes to giving back to the environment. There are other longboarding companies with more impressive environmental programs.
How much do they cost?
One of the disadvantages of Rayne Longboards is the price. They tend to run a little more expensive than your average longboard. This can vary greatly from one product to the next.
Nonetheless, many will say the extra cost is worth it. As stated before, these longboards are crafted to be durable and ride smoothly. Remember, you get what you pay for. Buying a cheap board will likely cost you more money in the long run anyway. And in this case, a little extra money will get you a board that performs well and lasts a long time.
Although a few Rayne longboards are on Amazon, this generally isn't the best place to find them. The best way to buy their products is by going to their official website or by visiting daddiesboardshop.com.
How We Reviewed
Image by LouisBauer from Pixabay  
Many of the specifications for the following boards were found using Rayne's official website. Also, much of the information used to form the bases of our opinion came from customer thoughts after purchasing. We considered the various features of each board, how well they perform in various styles of longboarding, and how they compare to their competitors.
How Rayne Longboards Compares to Other Brands
Here are a few of Rayne's most popular longboards.
The Best Rayne Longboard Products
Here are a few of Rayne's most popular longboards.
Rayne Darkside
4.9 out of 5 stars
The Rayne Darkside is one of Rayne's most famous boards. It's also the first single kickboard they ever came out with. It's a great all-around board that performs decently in any style of longboarding. In particular, it's an excellent board for freeriding or going downhill.
The Rayne Darkside is 36 inches long and 10 inches wide by default. It also comes in two other sizes known as the Brightside and the Otherside. The Brightside is 34 inches long while the Otherside is 38 inches. Each board also comes with 3D wheel wells, a three-stage rocker, and a kicktail.
While the Darkside performs well in all areas, it doesn't necessarily excel at anything. The kicktail doesn't do much functionally, and you might find it difficult to land tricks. In the end, these are the Darkside's only real flaws. It's one of the best boards you can get if you're looking for a board that does a little of everything.
Rayne Deelite Fortune
4.8 out of 5 stars
The Rayne Deelite Fortune is one of the premier boards in the company's Deelite series. Unlike most Rayne longboards, the Rayne Deelite Fortune is carbon-fiber foam instead of bamboo. This makes it 15 percent lighter than your average longboard. Even better, this happens without sacrificing any of its stiffness or durability.
The Rayne Deelite Fortune also features fat bottom technology which helps keep it stiff in the middle. The board itself is 36 inches long and 10 inches wide. It also has wheelbase options that can range from 25 to 27.25 inches.
Overall, this is an excellent board for anyone who enjoys racing downhill. However, the fact that it lacks a rocker can make freeriding a bit awkward. An experienced longboarder shouldn't have any trouble, but beginners might have a hard time getting used to it. In any case, it's a great board if you're looking for something that's both light and durable.
Rayne Demonseed
4.8 out of 5 stars
The Rayne Demonseed is widely regarded as one of the best long-distance boards that Rayne has ever come out with. It's a board you should seriously consider if longboarding is your preferred method of transportation. It works very well in terms of sliding and going downhill as well.
The Rayne Demonseed comes in various lengths. This ranges from 36 inches to an impressive 44 inches. Its wheelbase can vary from 33.5 inches to 34.5 inches. It also features a Deep Tub concave design, which gives the board a low center of gravity. This, in turn, gives you tons of stability.
This concave can take some getting used to for some longboarders. It can feel unnatural, and it also makes carving more difficult. That said, the Rayne Demonseed is a favorite among longboarders and is a great all-around board for the most part.
Rayne Supreme
4.9 out of 5 stars
The Rayne Supreme is a board absolutely made for freeriding and freestyling. Many consider it to be one of the best longboards in this category. That's thanks to its three-stage rocker and "Mean Cave" concave. Initially, it advertised as combining the best aspects of many previous Rayne longboards.
This board has a length of 42.5 inches and a 10-inch width. Its wheelbase can be either 30 inches or 31 inches. Rayne also has a similar board known as the Rayne Rival. This board has the same specs but features a 40-inch length.
While the Rayne Supreme is a fantastic freeriding board, it's only average in other areas. In particular, it has a certain amount of flex that can make going downhill a challenge. It can still work as a downhill board, but it's not the best for this style. Still, the Rayne Supreme is one of the best boards you can find if you love freestyling.
How Rayne Longboards Compares to Other Brands
Of course, Rayne Longboards isn't the only longboard manufacturer around. Here's how some of their competitors measure up.
Landyachtz
Like Rayne, Landyachtz just so happens to have their base in Vancouver. This is appropriate, as the two companies share a lot of similarities. Both of their products are of a similar quality and are the same materials. They are also similarly priced.
Believe it or not, Landyachtz actually has an even more extensive selection than Rayne. However, this is splitting hairs in a lot of ways. Many of their products are comparable to each other, and Landyachtz's larger selection doesn't necessarily add anything of value. If anything, it will only confuse a first-time buyer.
One area where Landyachtz might have the edge over Rayne is in their environmental program. Landyachtz has promised to plant a tree for every board they produce. This is noticeably more ambitious than Rayne's own environmental work. Aside from this, it's difficult to say one company outperforms the other in any significant way.
Sector 9
Sector 9 is a company based out of San Diego, California. Along with longboards, they also sell products such as surfboards and skateboards. They have a reputation for being one of the best brands for beginners. Their boards are sturdy and made to ride smoothly.
Sector 9 has one very noticeable advantage over Rayne longboards: Its products are significantly cheaper. This is one of the main reasons why they're popular with beginners.
However, Sector 9's selection isn't quite as impressive as Rayne's. Their boards also tend to have fewer features and are somewhat lower quality. They still make good boards, but it's not the same as Rayne or Landyachtz. While Sector 9 is a good brand for beginners, Rayne is for experienced longboarders who know what they're looking for and want to upgrade.
Arbor
Arbor Collective was founded twenty years ago and named after Arbor Day. As you might expect, this company has a strong focus on protecting the environment. Their Returning Roots program dedicates itself to rebuilding the Koa Forest of Hawaii, and they support organizations such as Surfrider Foundation and Grades of Green. This is a few steps above what Rayne does in their own eco-friendly efforts.
However, Arbor has a bad habit of using maple to make their boards. This is an inferior material when it comes to board construction. Maple is prone to receiving dents and chips over time. It might be a bit cheaper, but it's not going to last as long.
Also, Arbor doesn't have as high a selection as Rayne Longboards. While they have some good options for cruising and freestyling, they don't offer much high freeriding or going downhill. If that's what you're interested in, you're going to have to go with Rayne.
Loaded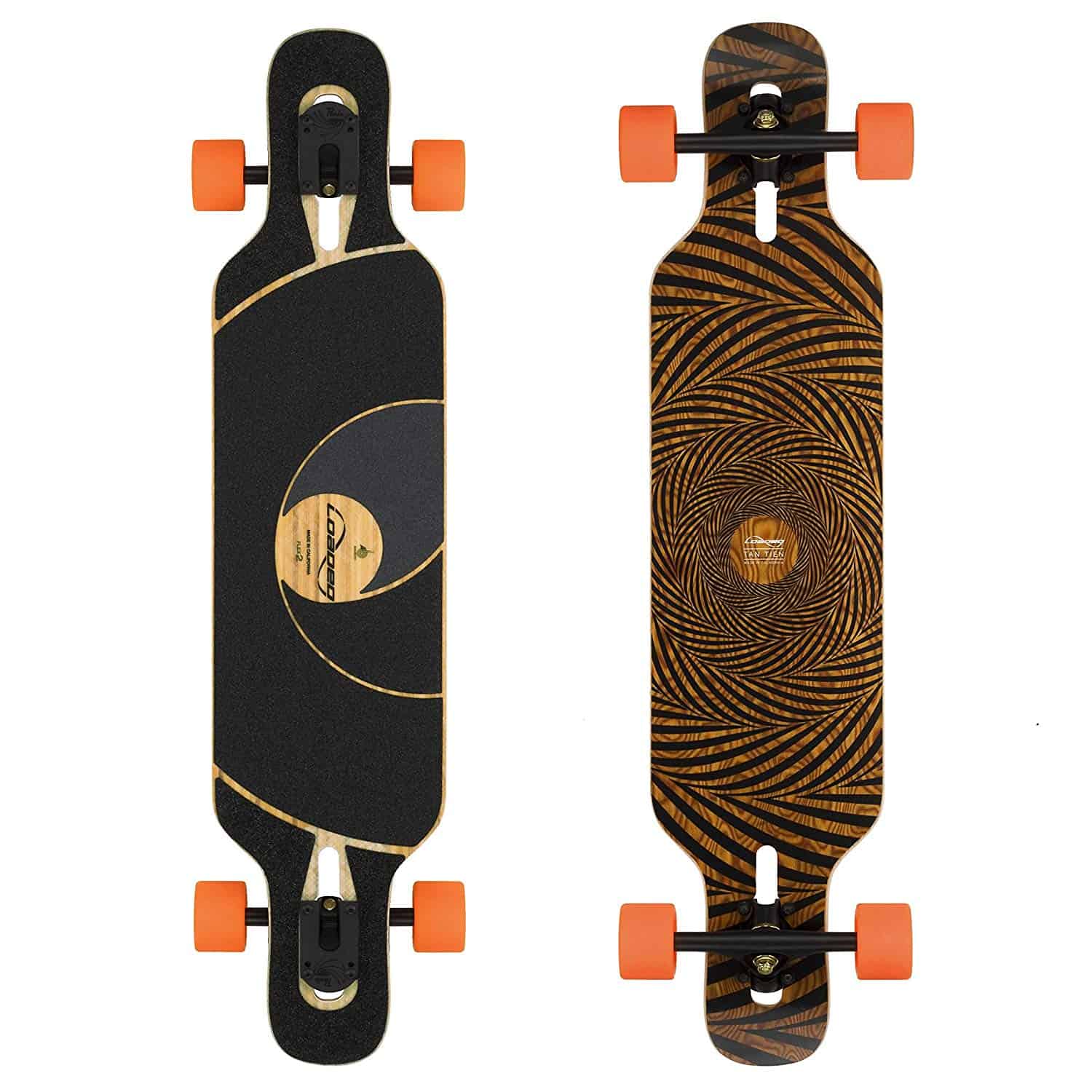 Loaded has been making longboards since the 90s and is one of the top brands on the market. They have a good selection of midrange products, but they're best known for their high-end longboards. These longboards are extremely lightweight and incredibly durable. They're simply some of the best longboards in the world.
As you might expect, these boards aren't going to be cheap. Of course, you're buying quality when you shop with them. But you also have to ask if it's really worth it.
Once again, Rayne has the advantage when it comes to selection. Like Arbor, Loaded tends to specialize cruising and freestyling longboards. There's not as much to choose from when it comes to downhill or freeriding.
Pros and Cons
There's no doubt that Rayne longboards have a lot going for them. They have an astounding range of high-quality products that can satisfy virtually any preference. However, their high prices might serve as a barrier to beginning longboarders.
Pros
High-quality products that last long and perform well
A wide range of boards that serve every niche
Boards are eco-friendly materials
Cons
Products can be a bit expensive
Most boards only excel in one area
Our Verdict
Their vast selection of high-quality boards has made them one of the top longboarding brands in the world. The only thing that can be said against them is they might not be the best brand for a beginner. Their selection could easily overwhelm someone that's new to longboarding, and the prices could scare people away as well. But once again, you get what you pay for.
If Rayne longboards catch your attention, the next step is to decide what you're looking for. Do you plan to race down some hills or do some freeriding? Or maybe you just want to show off some new tricks. Whatever you're looking for, Rayne has it. Start shopping today, and you'll be enjoying a great, new longboard in no time.