*This post may contain affiliate links. As an Amazon Associate we earn from qualifying purchases.
Longboarding and skateboarding are great sports for beginners and those with more experience alike. No matter what your skill level, Arbor longboards have something for you.
As a skater, whether you're new to the game or have done it for years, you want a well-built longboard. A board with durable wheels, a solid deck, and appropriate levels of flexibility. Regardless of your riding or cruising style, the right longboard will take you places — fast!
Arbor Longboards are one of the premier companies in the industry. Skaters can also expect quality construction and seamless maneuverability on deck. Lace-up, board up and experience the best riding experience with a longboard made for your specific boarding experience.
About Arbor Longboard Brand
Arbor began their skateboard division in 1998. The company has a strong commitment to the "Returning Roots" program. They also donate proceeds from all product sales to help protect and restore forests.
With its history in snowboarding and skating products dating back to 1995, the company is an industry leader. The company is also well-known as a leader in quality, performance, and selection. This factor is visible in the extensive line of Arbor longboards and skateboards sold today.
How to Choose Your Arbor Longboard
[amazon fields="B00C846P0A" value="thumb" image_size="LARGE" image_align="CENTER"]
Before selecting which Arbor longboards you want to buy, skaters must also consider several factors to help them pick the right board. Riding style, materials, budget, design, and similar aspects help skaters choose the proper longboard design.
Longboard riding styles
Every longboarder has a different riding style. Because of this, there are various longboards available to consider purchasing. There are four basic riding styles. These are cruising, freestyle, free riding, and downhill riding.
Cruising boards are perfect for beginner to intermediate skaters. This series of Arbor longboards is for general cruising. They are best for transport, smooth skating, and gentle rides to get you from one point to another.
The freestyle boards are ideal for those who want to perform tricks on their board. These boards have a broader base, helping stabilize skaters who require high levels of balance.
Free riding longboards are for riding on hills and streets. These boards make it easy to perform a technical maneuver like carving downhill or turning on tight angles.
Downhill longboards are for riding fast and going downhill. The boards are straight and are perfect for those who plan on racing.
Longboard deck material
Longboards are available in different material finishes. The Arbor longboards series of products include bamboo, maple, and carbon fiber, as some great finish options. Bamboo is a little more flexible than the other material options. It is lightweight, making the board easy to skate on and carry/transport. This material is perfect for cruising and carving longboarding styles.
Carbon fiber is the most expensive variety. It has a foam core which helps lighten the board's overall weight. Pro skaters and racers like these boards. They are easy to push off of at the start. The boards also allow skaters to exert less energy to deliver max speed.
Maple is a third variety available when choosing a longboard deck material. The wood is sturdy and can endure heavy use. For commute and daily use, this is an excellent material to choose when purchasing a new longboard.
Longboard Flexibility
When selecting Arbor longboards, the flex levels are also significant. Soft flex ratings provide excellent shock absorption on the landing. They are, however, unstable for medium to higher speeds. A medium flex helps maintain speed stability and adds a spring-like feel to the board. Over bumps, it provides excellent shock absorption. These boards are suitable for daily commute or carving. Stiff flex is ideal for moderate to faster speeds. These boards are perfect for bombing or racing at high speeds but don't offer much absorption on landing.
Longboard Design Features
Several design elements make up the overall appearance and structure of Arbor longboards. When comparing longboards, these are a few of the factors skaters should consider, to help them select the right board.
Kicktail
When selecting the best Arbor longboards, skaters must determine if they want a board with or without a kicktail. For those who plan on doing turns and tricks, the kicktail makes it easier to perform those tricks. Some benefits of choosing a board with a kicktail include:
Pros
More fun and more engaging to ride
Allows skaters to turn their board and perform tricks easily
They are appropriate for beginner and advanced skaters
Kicktails can help evenly distribute weight when completing tricks on the board.
Cons
Boards without kickstands maximize the wheelbase
The board has great stability
Excellent for intermediate and beginner skaters
Creates a smooth/even finish
Skaters who are deciding between Arbor longboards with or without a kickstand should also weigh the cons. These include:
Trucks
The truck connects the wheels to the longboard. This part comes in either 150mm or 180mm sizes. For longboards, 180mm is the most common variety. Shorter trucks are for boards with an axle of 8.5 inches or shorter. They're for small decks and cruiser style boards. The 180mm trucks are typically for boards which are longer than 8.5 inches.
Board width
Arbor longboards come in various widths. The average board size is 7.5 inches to 8.25 inches. The skateboarder's style, shoe choice, height, and weight, are some factors which will differentiate the deck each skater chooses. It will also impact their choice if skaters plan on doing tricks or prefer cruising.
How We Compared Arbor Longboards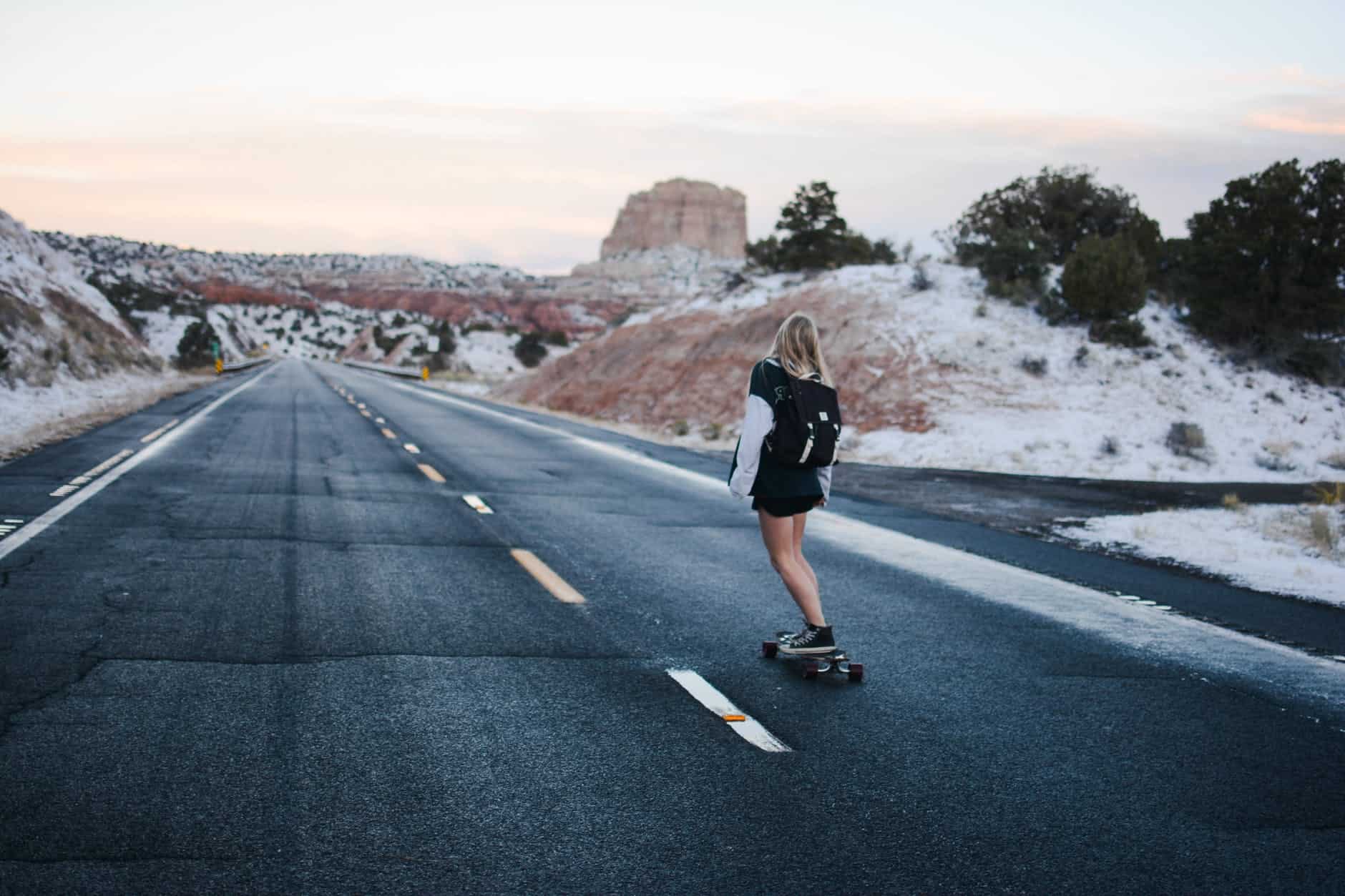 When comparing Arbor longboards, we considered several factors. The board material, finishes, design, and weight, are some of the essential factors we looked at. We also believe the ratings given by owners and the prices of these longboards are vital to rating them. Using this information we can provide readers with the best variety, for beginners and skaters with more experience alike.
Average Prices of Arbor Longboards and Where to Buy Them
Arbor longboards are available through the Arbor website. Additionally, Amazon and Evo, also carry several varieties of the company's longboards. Prices vary significantly because of the type of board and skill/experience level. On average, Arbor longboards are available for costs between $70 to $300.
What to Look for in a Kryptonics Skateboard
There are many great longboards available for beginners and skaters with plenty of experience. When comparing longboards, these are a few of the best options available.
4.9 out of 5 Stars
[amazon box="B0721F11KD"]
The deck uses sustainable wood material utilizing reclaimed wood from other products. The base also employs an Eco-friendly, water-based sanding sealer. It gives the board an even/smooth finish, and there are great details in design that longboarders can appreciate.
Skaters like the expansive 40-inch deck. This larger board is perfect for taller skaters and those who need more stability below their feet when mobilizing. The longboard's smooth bearings and custom-design are also lovely features that make consumers happy.
One concern about this longboard is that the grip tape doesn't afford boarders sufficient grip. On asphalt or smooth surfaces, it doesn't help skaters stop or grip certain corners easily.
The price for this longboard is between $150 to $175. The product has an average Amazon rating of 4.9 out of 5 stars.
4.6 out of 5 Stars
[amazon box="B01LYR6PK6″]
This longboard features a seven-ply maple deck base. It is durable and can withstand higher weight limits than other boards, including those with bamboo materials. The carbonized deck is also durable, and high levels of flex make it perfect for all riding levels.
Reviewers indicate the board affords excellent shock absorption and is forgiving on all riding surfaces. The large wheels also absorb plenty of the impact. This feature minimizes what skaters feel when landing on the ground.
The narrower 32-inch base is a good option for advanced skaters. It allows them to mobilize quickly and efficiently around tight corners. Some newer or beginner skaters might feel a little uncomfortable on the base.
The longboard is between $110 to $190 depending on the design chosen. The product has an average Amazon rating of 4.6 out of 5 stars.
4.5 out of 5 Stars
[amazon box="B072FKHYCQ"]
This longboard features 180mm trucks and large wheels, for smooth skating down all road materials. It features a broad 42-inch base, perfect for skaters of all sizes. This design easily accommodates tall skaters and those who want to perform tricks on their board.
The flat design of this board creates a seamless design for cruising or free riding on asphalt roads. The board doesn't have a kickstand, which makes it perfect for daily cruising and commute.
Some reviewers note that the longboard isn't the best quality wood grains. Reviews state that the material is flimsy and is for lighter skaters.
This board costs between $110 and $200. The average rating on Amazon is 4.5 out of 5 stars.
5 out of 5 Stars
[amazon box="B00UJ69G8W"]
This longboard is narrow and features 150mm trucks. It features a graphic design by Kyler Martz on the face of the board, giving it a distinct look/finish. It has a flexible deck, and the board's length is 46 inches.
This longboard is perfect for cruising. It has a pintail design allowing riders full use of the board. The elimination of the kickstand allows new or beginner skaters to learn how to balance their body weight when skating.
Some reviewers note that the 150mm trucks are too narrow, making it difficult to maneuver on some turns. Also, the lack of grip on the wheels also makes it slick when skating on smoother surfaces and asphalt.
This series of Arbor longboards costs $140 to $150. Average ratings on Amazon for this board are 5 out f 5 stars.
5 out of 5 Stars
[amazon box="B00UJ69EWA"]
This longboard has a 46-inch length. For taller skaters or those who want to perform tricks, this is a perfect size. The 32-inch width is sufficient for most skaters who will use the board for cruising.
Although the 32-inch depth isn't as extensive as other boards, the longer length makes up for the size disparity. Skaters note this is a great board for cruising and free riding.
The longboard is a little flimsy and materials don't seem very sturdy. The soft flex is also a little too bouncy on some surfaces. It is best for beginner and intermediate skaters, rather than those with more experience.
This longboard's price falls between $200 to $210. The Amazon ratings are 5 out of 5 stars.
4 out of 5 Stars
[amazon box="B071SHB5PT"]
Skaters who are looking for a distinct design will love the mermaid on the front center of the longboard. The board features 180mm trucks for smooth skating and stability on all skating surfaces.
Clear spray on grip tape helps to reduce skidding or sliding on smooth surfaces. This feature is beneficial when going downhill. It helps minimize the impact on hard surfaces.
The reviews of this board note that there are tears in the grip tape. This flaw can make it dangerous to skate and will minimize grip resistance when mobilizing at faster speeds.
The Arbor longboard has a price of $150 to $175. The average Amazon ratings for this longboard are 4 out of 5 stars.
4.4 out of 5 Stars
[amazon box="B079GKV72L"]
The board features a swallowtail shape. The board is perfect for those who are looking for a new cruising board when purchasing Arbor longboards. It is also functional for riding over smooth asphalt, curves, and performing quick turns over tight corners.
Skaters appreciate the design of the board. For those who are looking for a cruising board, this is also one of the best models. It is light and comfortable to mobilize when cruising at average speeds.
The longboard isn't a good option for other types of skating. Some boards serve for cruising and free riding. This board, however, is for commute and longer skates, but not much else.
The average price for the longboard is $100 to $130. Average Amazon ratings for this longboard are 4.4 out of 5 stars.
5 out of 5 Stars
[amazon box="B01MXM0GL7″]
For the skater who has higher levels of experience longboarding, this is also a good option. It is smooth, has stiff flex, and is perfect for fast skating speeds. It also has a sizeable 40-inch deck as well, making it ideal for skaters of all sizes/heights.
The board is perfect for racing and downhill skating. For those who want something which is simple, easy to ride, and looks good, this is a great option.
This longboard doesn't minimize impact and has virtually no shock absorption. It's also for skaters with more experience. So, beginner and novice skaters might not do well on this longboard.
The price of the longboard is between $135 to $170. Amazon ratings for this longboard are 5 out of 5 stars.
4.5 out of 5 Stars
[amazon box="B00VIUC842″]
The clear spray-on grip keeps skaters stable on the board, allowing them to skate at fast speeds. Downhill and free riding are also great skate styles for this longboard design.
The large 44-inch base is excellent for providing traction and stability for skaters who want to perform tricks. The board also features eight maple plies, for added support and security of this longboard.
Some reviewers indicate that it is not ideal for taller skaters. The frame isn't sturdy and doesn't provide sufficient room for mobility on the base.
The longboard has an average price of $145 to $160. The ratings on Amazon for this longboard are 4.5 out of 5-stars.
5 out of 5 Stars
[amazon box="B00C846P0A"]
For those who want affordability, this is the board to consider. Skaters can choose from various wheelbase positions. They can also select 150mm or 180mm trucks to fit their skate style perfectly with this longboard.
Quality frame construction and stability make this a great cruising board. The multiple ply finish also ensures the board can withstand heavier weights. It also makes it an excellent option for skaters who in higher weight brackets.
The longboard isn't great for directional skating. It is also an excellent daily commuter board. However, for speed and downhill skating, it might not be the perfect option.
The price for this longboard is between $70 and $100, and Amazon also rates it 5 out of 5 stars.
Best Arbor Longboards for Beginner and Advanced Skaters
Longboards are great for beginner skaters and also for those with more experience. Arbor longboards come in various sizes and styles. If you're looking for a daily commuter cruiser, the Fish AC board is excellent. It also balances bodyweight effortlessly, and the 46-inch base is ideal for skaters of all heights.
For skaters who have more experience, a great downhill longboard is the Axis 40 AC longboard. It has a large 40-inch deck, and stiff flex helps stabilize the board when going quickly. It limits shock absorption but maximizes speed and performance for those who want to ride fast on their longboard.
Featured image via Longboardguide